Congratulations to Dawson Brinkley and Coach Diana Driggers for their awards and to all Lonestar SCSA players for their UIL HS Soccer achievements. 
Girls
Super Team
Player of the year
Dawson Brinkley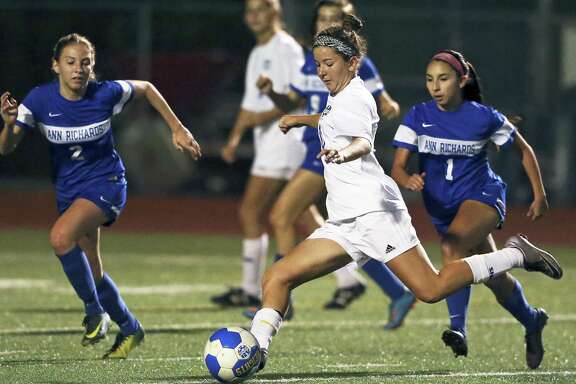 School: Alamo Heights
Position, class: Forward, senior
Honors: TASCO All-State Class 5A first team … UIL Class 5A all-tournament team … All-District 26-5A
Highlights: Brinkley's regular season was solid by any measure, but she raised her game to another level during the playoffs. She had 12 goals and three assists in six postseason games, accounting for 15 of her team's 22 goals during the Mules' run to the UIL Class 5A state tournament. She had four multi-goal games, including two hat tricks, three game-winning goals and assisted a game-winning goal once. … Brinkley twice scored the tying goal in Alamo Heights' 4-3 loss to Grapevine in the state semifinals. … Tallied 35 goals and 15 assists for the season. … Finished her career with 61 goals and 24 assists. … Super Team pick last year. … Signed with Our Lady of the Lake.
Quotable: "I don't think people know how good Dawson is. You can ask every single player in the team about her and there won't be a negative word spoken. She's a special player and I can't think of anyone else who is a bit like her. She has great tactical awareness and her technique is excellent. For me, she's up there with the best two or three forwards in the UIL 5A classification. Dawson is a soccer genius. We have been very fortunate to have had her play here at Alamo Heights these last four years." — Alamo Heights coach Chris Sharp
Coach of the year
Diana Driggers
School: Clark
Head coaching experience: 111-60-14 in eight seasons at Clark
Highlights: With a starting lineup during the playoffs that featured only two seniors, she guided the Cougars to the third round for the first time since 2005, defeating defending Region IV-6A champion Austin Vandegrift in the second round and 2017 regional finalist Steele in bidistrict, before falling to Johnson. … Clark finished second in District 28-6A but snapped eventual league champion Brandeis' 35-match district unbeaten streak.
Credit: San Antonio Express News
Read the full article here: Girls Soccer: 2018 E-N All – Area Team